Take a look at the team canvas, and you'll notice that whilst marketing and sales may have different tasks, goals, strengths and weaknesses, their purpose is ultimately the same. They share aims and values as a result.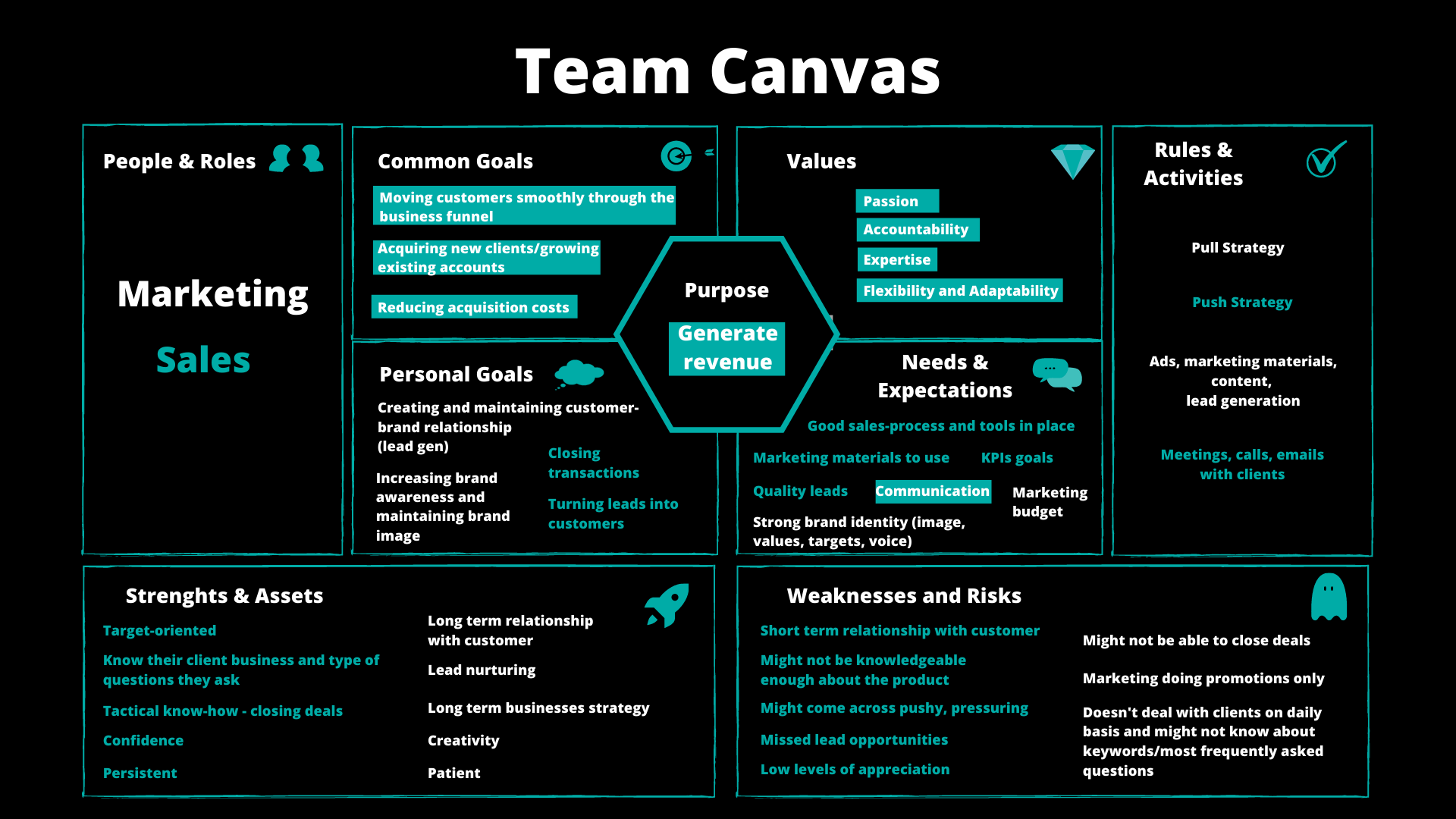 In this chapter, we look at how outcomes are significantly better when sales and marketing overcome their differences and work together to achieve their shared purpose. Let's begin with how the two departments can't just simply both exist – they need to be co-dependent.
Coexistence vs co-dependence
Rather than working in silos alongside each other, sales and marketing should collaborate. This involves playing on one another's strengths and filling in the gaps where there are weaknesses.
For example, marketing's flaw is that they don't generally work closely with clients. They therefore can't know the buzzwords they use, or the questions they frequently ask. This means that any collateral they produce might not meet requirements.
But it needs to. In the digital age, 70% of a purchasing choice is made before a customer speaks to a salesperson – they're self-taught through content.
As sales talk to clients day in and day out, they have a comprehensive understanding of them. If both teams work together to identify their nuances, they can effectively inform the customer, and improve their experience. 'If' is the key word here: only 54% of marketers said they felt 'empowered to collaborate' with their sales counterparts.
Sharing selling practices
Similarly, sales have a lot of wisdom to impart on the lead generation process as they use social media (a marketing tool) as part of their role. 94% of the best-performing salespeople surveyed in a 2020 LinkedIn study categorised their own marketing leads as either 'excellent' or 'good'. Those active on social media discover 45% more sales opportunities too, and compared to their peers who aren't using social selling, 78% of salespeople are outselling them.
When sales get involved in marketing, there can evidently be some very positive results. This also frees up marketing to return to their core purpose beyond promotion: knowing the market, crystallising pricing, figuring out what is and isn't effective, and determining the priorities that will keep the business one step ahead of the competition.
The trick is to provide the right environment for the two teams to comfortably collaborate with each other, sharing tactics and information along the way to driving greater revenue.
Types of marketing and sales relationships
There are four different types of marketing and sales relationships, each with varying degrees of collaboration, and they change as the different departments mature.
Undefined: The teams are very separate, focused on their own responsibilities and objectives. They don't see a reason to communicate except if there's conflict. This means that engagement with each other often involves resolving problems, instead of proactive collaboration.
Defined: Whilst the teams work in silos, there are set guidelines and a foundation in place for further alignment. These ensure each department knows what they should be doing, helping to avoid any disagreements. They'll have a common language (like the definition of a lead), shared KPIs, and will work together on larger events.
Aligned: There are rules and limitations, but these are more flexible. Shared planning and training sessions allow each to understand the other's terminology and go over important client actions. Plus, marketing will have a bigger part in transactional or commodity sales.
Integrated: By this stage, the boundaries are blurred. The marketing team is more embedded into client accounts, and structures, plans and rewards are shared. A 'rise or fall together' culture is developed, with the focus being more about strategic, forward-thinking tasks with the development and implementation of shared metrics. Budgeting is also more flexible.
Now we've defined the different marketing and sales relationships, we can dive into Chapter Four and how to build one that is blended.
Download the full ebook on The Disconnect Between Marketing and Sales and learn more about: 
What is "The Disconnect"?
Why is there a disconnect?
Bridging the gap between Marketing and Sales
Bridging the gap the Interlink way
Other content you might like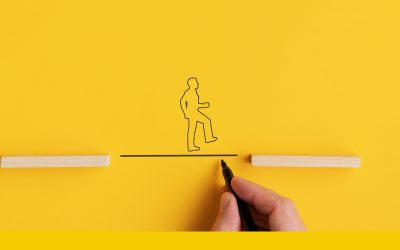 Whilst statistics from MarketingSherpa show that 61% of B2B marketers send all their leads to sales, they also show that only 27% of those leads are considered 'qualified' or 'actively looking to purchase' by the sales team.
read more