Account-based Marketing (ABM) has been around for some time. And whilst it hasn't been replaced, it has been enhanced – to ABX: Account-based Experience.
But what exactly is this? In this blog, we outline the difference between the two, how ABX can be used, and what you should consider in your approach. Read on to learn everything you need to know.
What's the difference between ABM and ABX?
ABM is focused on nurturing and selling to accounts, in a very predictable, efficient manner. This lacks personability, meaning the experience is lacklustre too. Plus, it doesn't consider whether it's the right time for the account to receive communication from you, or what this communication is.
ABX builds on ABM, and has completely transformed how organisations go-to-market – for the better. It combines the engagement aspects of inbound marketing, with the accuracy and targeting of Account-based Marketing. As a result, smart insights are used, giving the company a knowledge of how to interact with every account – and at every stage of the customer journey.

How ABX can be used

Siloed teams within a business work closely together to guarantee that every single brand engagement revolves around the end user. For example, marketing, sales and customer success teams unite to produce a fully aligned, customer-centric strategy that delivers the optimal outcome. This is precisely what we do at Interlink – you may notice we have a mixture of marketing, sales and client services as part of our team structure.
Whilst ABM has a focus on conversion, through ABX you'll build better customer relationships. You'll engage your audience with personalised, relevant messages, delivered in a trusted way that suits them. The format should be right for users too – for instance, some may prefer to receive content such as case studies and blogs, whereas others might want video and audio content.
3 key considerations when planning your ABX approach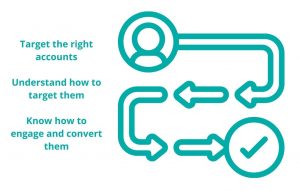 Now you know what ABX is and how it can be leveraged, what about how to use it? We've put together three core steps you can action in your approach to ABX.
1 – Target the right accounts
As you'll be spending the time and resources personalising your communications to be relevant, it's key that you're targeting the correct accounts in the first place. So, figure out who's suitable for you to build a relationship with, and who's more likely to lead to conversion. 
2 – Understand how to target them

Just as important is to make sure you're using the right channels to communicate with them. You can leverage as many channels as you want, as long as each one is delivering uniform communications to perfect the customer experience.
3 – Know how to engage and convert them
You'll also need to think about how you'll engage and convert them. Are you going to use intent data to identify the position of an account in the buyer journey, and build a relationship from there? With this consideration, it's key to have the right solution in place – and that's where Interlink comes in…

Engage and Convert with Interlink


Through Interlink, you'll be able to Engage the correct sales pipeline, and with our dedicated Convert solution, you can access account enrichment data points to prompt conversations and conversions. They've benefitted so many of our clients, and they could be leveraged by your business too.
To learn more about what Interlink could do for you, get in touch with our friendly team today.
Other content you might like
Lead generation is a key part of business success. Without customers, it's impossible to thrive, so attracting their attention and converting that interest into a sale is crucial.
As we've covered in previous blogs, there are two broad methods of lead generation. Inbound marketing is the process of attracting leads to your brand by providing valuable content, whereas outbound marketing consists of pushing messages out to your target market. Tactics typically include activities such as PR, website content, direct mail and prospecting, but as technology evolves and
consumer behaviour changes, businesses must adapt their
lead generation strategies to stay ahead of the curve.
In this blog, we'll look at what is driving changes in lead
generation and explore the main emerging trends.
read more